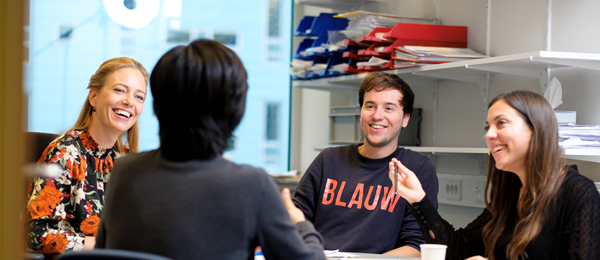 Project Coordinator EU Research Project STRONG-AYA
Function description
For the European Commission funded Horizon Europe project STRONG-AYA, we are looking for a Project Coordinator. You will be responsible for the daily management of STRONG-AYA, under the direct supervision of the Project Leads. You will play a pivotal liaison role with all internal and external stakeholders, spanning all Work Packages (WPs) and tasks of the STRONG-AYA project execution.
STRONG-AYA
STRONG-AYA is a new, interdisciplinary, multi-stakeholder European network to improve healthcare services, research and outcomes for Adolescents and Young Adults (AYA) with cancer, defined as individuals aged 15-39 years at cancer diagnosis. AYAs with cancer form a unique group; they face age-specific issues (e.g. infertility, unemployment, financial problems) and decreased quality of life due to cancer and its treatment. Unlike dedicated healthcare and trials for pediatric cancer patients, AYA-specific healthcare services are scarce and vary across Europe. AYAs who are at the core of society and economy need access to age-adjusted and high-quality healthcare. AYA-care and research will benefit from collection and pooling of patient-centered data and collaboration among all stakeholders: patients, healthcare professionals, scientists, and policymakers. Our consortium of clinical and scientific leaders in AYA-care, data science and registries, European Cancer Organisation, Youth Cancer Europe and EORTC will build on previous initiatives and EU grants. Within STRONG-AYA we will set up a value-based healthcare research ecosystem to develop data-driven, interactive policy and visualization tools that bring, in co-creation with all stakeholders including patients, novel insights into AYA healthcare. The project objectives, include: (1) Development of a Core Outcome Set (COS) for AYAs with cancer; 2) Implementation of the COS in 5 national healthcare systems (FR, IT, NL, UK, PL) and establish national infrastructures for outcome data management and clinical decision-making and a pan-European ecosystem that also welcomes future European countries; 3) Disseminate outcomes and facilitate interactions between national and pan-European stakeholders to develop data-driven analysis tools to process and present relevant outcomes, establish feedback loops for AYA cancer patients and the healthcare systems, and improve the reporting and assessment of outputs towards policy-makers.
Tasks and responsibilities
These include but are not limited to:
Monitoring the overall progress regarding milestones and deliverables.
Operationalization and timing of all activities in the project.
Identification of any unanticipated risks.
Acting as the centre of communication between all internal and external stakeholders, including:
Prompt liaison with the coordination team and the assigned EC Project Advisor for the implementation of further risk mitigation strategies.
Assisting all WP and Task Leaders.
Ensuring the involvement of appropriate internal research support structures.
Champion the preparation of deliverables (direct liaison with STRONG-AYA WP Leaders).
Preparation of the technical interim and final reports.
Responsible for STRONG-AYA data management.
Ensuring the timely submission of financial reports.
You will be available for occasional travelling abroad.
Job requirements
We are looking for a candidate with a bachelor/ master degree, preferably in the (para)medical background ((e.g. degree in health sciences, social sciences, medicine).
You have proven expertise in managing research projects. We are looking for a candidate with exceptional organisational skills. You have the ability to cope with tight deadlines. You also have the ability to work effectively with dynamic and diverse staff. Therefore it is important that you have excellent interpersonal and communication skills and a high level of resilience. You have team spirit and the ability to work independently.
Furthermore:
Fluent in English (spoken and written).
The following skills and qualifications would be a plus:
International experience or international exposure to best practices in project management.
Experience/ knowledge in principles and techniques of EU projects planning.
Experience/ knowledge in DMP.
Experience/ knowledge in non-academic collaborations and knowledge transfer activities.
Compensation
Fixed-term contract: For a minimum period of 2 years.
The vacancy is available immediately. You will be employed for a minimum period of 2 years. The gross salary per month is € 3.695 to € 4.391 according to salary scale FWG 55, depending on your experience. The terms of employment will be in accordance with FWG 55 of the CAO Ziekenhuizen (Collective Labour Agreement for Hospitals).
In addition you will receive a fixed end-of-year bonus in December (8,33%) and in May you will receive 8,33% holiday pay. For more information in regard to the secondary conditions please visit our website:
https://www.nki.nl/careers-study/how-to-apply/
Interested?
For further information about the position, please contact Dr. Olga Husson, Associate Group Leader:
o.husson@nki.nl
.
The NKI values diversity and is committed to creating an inclusive work environment that stimulates the best in each individual. Applications of all individuals are welcomed regardless of age, ancestry, religion, disability, distance from the labor market, sexual orientation or gender identity.
Details
Hours per week:

36

Salary level:

FWG 55
Nastassja Drenthe
Recruiter
Olga Husson
Senior postdoc