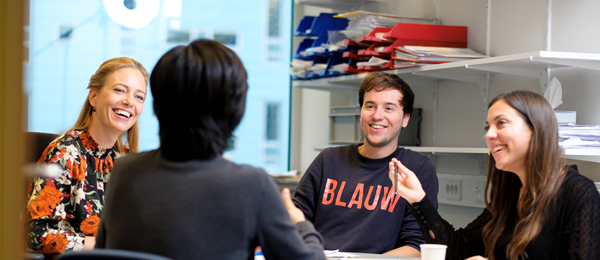 Postdoc (MSc.PhD or MD.PhD) - Unraveling the role of the CDK6 cascade in osteosarcoma
Function description
Project information
Sarcomas arise from mesenchymal stem cells and comprise a wide range of subtypes. Treatment options for advanced sarcomas encompass surgery, radiation, chemotherapy and a few targeted agents. With the exception of gastro-intestinal stromal tumours (GIST), the progress made in this rare cancer group is limited and there is a high unmet need for novel treatments. In osteosarcoma, a bone sarcoma with a peak age at pediatric, adolescent and young adult age, the (toxic) chemotherapy schedule (MTX, doxorubicin, cisplatin) has hardly changed for decades with a survival rate of only about 60%. Therefore, research in osteosarcoma has a high priority, and results may potentially also be of interest to other sarcomas.

The CDKN2ab locus is frequently lost in many different cancer types including several sarcomas such as osteosarcomas. Likewise, Cdkn2ab knockout mice are prone to developing various sarcomas including osteosarcomas at young age, which are very heterogeneous in nature, similar to the human counterparts. We have shown that tumors in Cdkn2ab knockout mice develop on the basis of elevated Cdk6 expression. Similarly, human sarcomas frequently show increased levels of CDK6, for instance by silencing of CDK6 directed micro-RNA's. In line with this, preliminary work showed that CDK6 knockdown significantly reduces anchorage-independent growth of mouse and human osteosarcoma cell lines. CDK6 drives cell cycle progression, but it also controls other cellular processes, such as differentiation, migration and survival, which significantly affect tumor stage, aggressiveness and possibly therapy resistance.
In this project we will analyze how activated CDK6 can promote osteosarcoma growth using mouse models and osteosarcoma cell lines with the aim to identify CDK6 downstream targets for more efficient intervention strategies with less toxicity.

The Netherlands Cancer Institute
Located in the lively city of Amsterdam, the Netherlands Cancer Institute (NKI) is the only comprehensive cancer center in The Netherlands.

The NKI is an internationally renowned center covering fundamental, translational and clinical cancer research. It covers all major areas of molecular and cellular cancer biology, with special emphasis on mouse tumor models, immunology, functional screens, cancer cell biology and translational research. The NKI and the Antoni van Leeuwenhoek Hospital (AVL) form an integrated cancer center, combining a research laboratory and a hospital under one roof in a single, independent organization. All hospital departments have an extensive research program, often in close collaboration with the research laboratory. This research is focused on improving cancer treatment through imaging and molecular diagnostics, new medicine, immunotherapy, improved operating techniques, more effective radiotherapy, and combinations of these, epidemiology and psychosocial research.
The NKI is a well-organized and dynamic institute accommodating over 50 research groups supported by state-of-the-art equipment and facilities, most with dedicated support staff. The Institute has a large mouse facility with special units for transgenesis, intervention studies, pathology and functional imaging, a genomics facility, a functional screening facility for RNAi and small-molecule libraries, excellent facilities for microscopy, flowcytometry, protein expression and purification, and many more.

Inspiring international atmosphere
Approximately 700 people work in the research laboratory and many of the clinicians are involved in research. Work discussions, lectures and seminars are in English and a large number of non-Dutch post-docs, students and staff members contribute to the stimulating and international atmosphere of the Institute.
Job requirements
We are seeking an enthusiastic and ambitious postdoctoral researcher with a strong background and interest in cancer biology, mouse modeling and (functional) oncogenomics. You should preferably have excellent communication, collaboration, and organizational skills, ability to work under stress conditions and proficiency in spoken and written English. You will be part of a multidisciplinary team consisting of PhD students, postdoctoral researchers, technicians and bioinformaticians. We offer the use of excellent research facilities.

Compensation
The vacancy is available immediately. You will join an international research team in a stimulating and interactive research environment and collaborate with colleagues at the NKI and at other institutes.
The appointment will be for 4 years. The gross salary for a fulltime appointment will range from €3.695,- to € 4.391,- per month, depending on previous experience. The terms of employment will be in accordance with FWG 55 of the CAO Ziekenhuizen (Collective Labour Agreement for Hospitals).
In addition you will receive a fixed end-of-year bonus in December (8,33%) and in May you will receive 8,33% holiday pay. For more information in regard to the secondary conditions please visit our website: https://www.nki.nl/careers-study/how-to-apply.
Interested?
Interested applicants are invited to submit an electronic copy of their CV, the names and contact information of 2-3 referents (add this information in your cover letter) , and a cover letter describing past research experience, current research interests and career goals. For further information please contact Dr. Paul Krimpenfort (
pja.krimpenfort@nki.nl
) and/or Prof. Jos Jonkers (
j.jonkers@nki.nl
) at the Division of Molecular Pathology.
Website:
https://www.nki.nl/research/research-groups/jos-jonkers
Select reading:
• Franceschini et al, A murine mesenchymal stem cell model for initiating events in osteosarcomagenesis points to CDK4/CDK6 inhibition as a therapeutic target, Lab Invest 2021, PMID 34921235
• Krimpenfort et al, A natural WNT signaling variant potently synergizes with Cdkn2ab loss in skin carcinogenesis, Nat Commun 2019, PMID 30926782
• Annunziato et al, Genetic dissection of cancer development, therapy response, and resistance in mouse models of breast cancer, Cold Spring Harb Symp Quant Biol 2016, PMID 27815543
The NKI values diversity and is committed to creating an inclusive work environment that stimulates the best in each individual. Applications of all individuals are welcomed regardless of ethnicity, nationality, gender, religion, age, or ability.
Details
Hours per week:

36

Salary level:

Dutch Collective Labour Agreement for Hospitals
Nastassja Drenthe
Recruiter