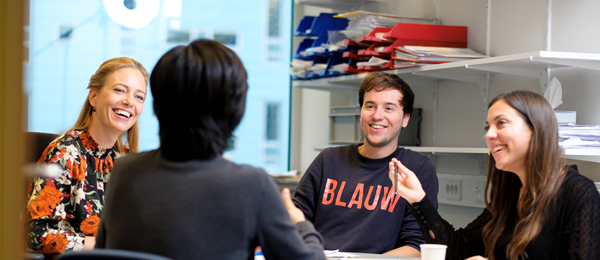 PhD student - Unraveling epigenetic regulation in T cell therapy models
Function description
The project
Adoptive T-cell therapy is a rapidly evolving treatment option to fight cancer. Despite substantial advances in immunotherapy, a large fraction of malignancies remains incurable and many cancer patients only benefit temporarily. One of the main challenges is the derivation and expansion of engineered T cells capable of mediating sustainable anti-tumor responses. T cell differentiation is determined by key transcription factors and guided by epigenetic mechanisms. We recently uncovered a central role for the histone methyltransferase DOT1L cytotoxic T cells. Based on our findings, we hypothesize that ablation of DOT1L during the expansion of human T cells for ACT can improve their effector functions.
The project is part of an ongoing collaboration between two research groups and funded by the Dutch Cancer Society (KWF). The lab of Fred van Leeuwen (Department of Gene Regulation) is interested in mechanisms of epigenetic regulation. They develop new technologies to study histone methylation, histone turnover, and novel epigenetic mechanisms from budding yeast to mouse models and human cells. The lab of Heinz Jacobs (Department of Tumor Biology and Immunology) studies mutagenic programming of lymphocytes. They have a special interest in DNA damage response and DNA damage tolerance.

You will be part of the group of Heinz Jacobs and embedded in the joint DOT1L team. In this collaborative, multidisciplinary, and dynamic environment, you will develop genetically engineered models in primary human T cells and cell lines to study the role of DOT1L in T cell differentiation, activation, and tumor killing capacity in vitro and in mouse xenograft models in vivo. The functional and cellular studies will go hand in hand with epigenome and transcriptome analyses.

The Netherlands Cancer Institute (NKI)
Located in Amsterdam, the NKI is an internationally renowned institute dedicated to fundamental, translational and clinical cancer research, and the only comprehensive cancer center in The Netherlands. It is a dynamic institute accommodating over 50 research groups and many advanced core facilities, including flow cytometry, proteomics, genomics, CRISPR-screening, biobank, imaging, and a mouse cancer center. Approximately 700 people work in the research laboratory and many of the clinicians are involved in research. Work discussions, lectures and seminars are in English and a large number of non-Dutch post-docs, students and staff members contribute to the stimulating and international atmosphere of the Institute.
Job requirements
We seek an ambitious PhD student with a MSc degree in a relevant area and with strong background in immunology and/or tumor biology and/or epigenetics and an interest in fundamental and translational cancer research. Proficiency in English, good communicative skills, and a team player mentality are important requirements. We offer the use of excellent research facilities.
Compensation
The vacancy is available immediately. You will join an international research team in a stimulating and interactive research environment and collaborate with colleagues at the NKI and at other institutes. You will be employed for a period of at least four years, with a possibility for extension. For a PhD student the gross salary per month is € 2.972,- to a maximum of € 3.620,- according to the standard PhD scales. The salary depends on previous experience. The terms of employment will be in accordance with the CAO Hospitals (Collective Labour Agreement for Hospitals).
Interested?
Interested applicants are invited to submit a CV and a cover letter describing past research experience, current research interests, personal and professional goals, and the names and contact information of 2-3 references. For further information about the position please contact Fred van Leeuwen (
fred.v.leeuwen@nki.nl
) or Heinz Jacobs (
h.jacobs@nki.nl
).
Our web sites:
https://www.nki.nl/research/research-groups/fred-van-leeuwen/
https://www.nki.nl/research/research-groups/heinz-jacobs
.
The NKI values diversity and is committed to creating an inclusive work environment that stimulates the best in each individual. Applications of all individuals are welcomed regardless of age, ancestry, religion, disability, distance from the labor market, sexual orientation or gender identity.
Acquisition for this vacancy is not appreciated.
Details
Hours per week:

36

Salary level:

PhD-scale
Nastassja Drenthe
Recruiter