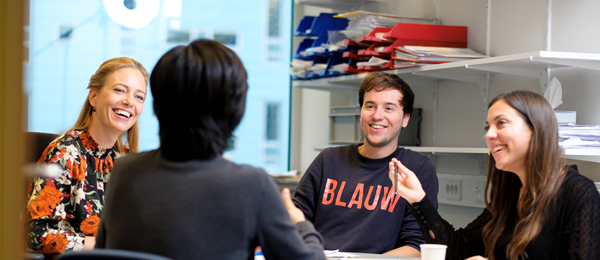 Bioinformatician / Data engineer for data-integration in oncology
Function description
We are looking for a bioinformatician or a data engineer with a strong interest in software development & operations (DevOps) to facilitate data-integration in oncology and research data management.

Your working environment

The Netherlands Cancer Institute is an internationally recognised centre of scientific excellence. Research is focused on early detection of cancer, improving cancer treatment through imaging and molecular diagnostics, new medicines, improved operating techniques, more effective radiotherapy and combinations of these, epidemiology and psychosocial research.

The Translational Gastrointestinal Oncology (TGO) group focuses on gastrointestinal cancer research, with emphasis on biomarker discovery, validation and implementation for early detection of CRC, namely markers for screening, surveillance, prognosis and response to therapy. This involves omics-based tumour profiling, using DNA-, RNA- and proteomics-based techniques, in order to stratify patient groups and arrive at individual tailored therapies. The group is also heavily involved in Health-RI, the interconnected infrastructure for personalised medicine & health research in the Netherlands (see https://www.health-ri.nl/ for more information), and making translational research data FAIR (Findable, Accessible, Interoperable and Reusable).

The TGO group is one of the research groups within the Division of Diagnostic Translational Oncology (DTO), and is working with a multi-disciplinary team supporting biobanking facilities, data sharing initiatives, translational and clinical research studies and the diagnostic IT processes.
Job requirements
As a bioinformatician/data engineer within our group, you will be responsible for the coordination, data loading and collaborative development of the open-source data-integration platform 'cBioPortal' (see
https://www.cbioportal.org
); both for the local cBioPortal instance hosted at the NKI, as well as for the national cBioPortal instance hosted by Health-RI. In addition, you will aid researchers with FAIR data management and develop procedures to automate data flows for multiple studies.
Your profile
We seek to recruit an ambitious candidate, holding a MSc or PhD degree, capable of independent thinking, with a proactive attitude and a strong commitment to translational cancer research and implementation in daily clinical practice. You will be working in a multi-disciplinary environment and will therefore need excellent communication skills. Further knowledge and skill requirements include:
An MSc. in software engineering, bioinformatics or related field
Programming skills in at least several of the following: JAVA, JavaScript, R, Linux, HTML, .NET, MSSQL, ETL
Experience with data management and analyses (e.g. Excel, SPSS)
Capable of motivating and connecting with/to people in different research domains
The ability to see the 'bigger picture' as well as the 'detail' level

It's a plus if you have experience with:
Clinical trials or translational research studies
Digital pathology/radiology systems and respective data models
Biobank systems and data models
Information security and privacy aspects
Compensation

You will join a dynamic international research group. You will collaborate with scientists and clinicians with expertise in different disciplines. You will have the opportunity to follow high-quality courses offered by the NKI career development program. The gross salary per month will be from € 2.759,- to € 4.391,- according to the FWG-function group 50-55, and depends on previous experience. The terms of employment will be in accordance with the CAO Ziekenhuizen (Collective Labour Agreement for Hospitals). In addition, a fixed end-of-year benefit forms part of the secondary conditions. You will start with a contract for a period of 1 year.


Contact information
Send us your CV and motivation letter. You are more than welcome to send inquiries to Mariska Bierkens (Associate Staff Scientist, Division of Diagnostic Translational Oncology, m.bierkens@nki.nl).

Acquisition due to this vacancy is not appreciated.

At the NKI, we value an inclusive environment. We invite everyone who wants to contribute to join us, regardless of ethnicity, nationality, gender, religion, age, or ability.
Details
Hours per week:

36

Salary level:

FWG 50
Nastassja Drenthe
Recruiter
Mariska Bierkens
Associate Staff Scientist